CASTEL GANDOLFO, ITALY—Pope Benedict XVI ended his papacy, becoming the first pontiff in 600 years to step down. From now on, he will be known as Benedict XVI, pope emeritus.
The landmark resignation took effect at 8 pm on Thursday, three hours after the former pope had left Vatican City and flown to Castel Gandolfo, a summer residence on the outskirts of Rome. Over the next few days, cardinals will gather at the Vatican to plan a conclave that will elect his successor.
The pontiff's retirement thrusts the church into uncharted waters, as the next pope will lead Roman Catholicism with his predecessor just a stone's throw away. Pope Benedict, who is a prolific writer and respected theologian, has said he doesn't expect to withdrawal completely from public life.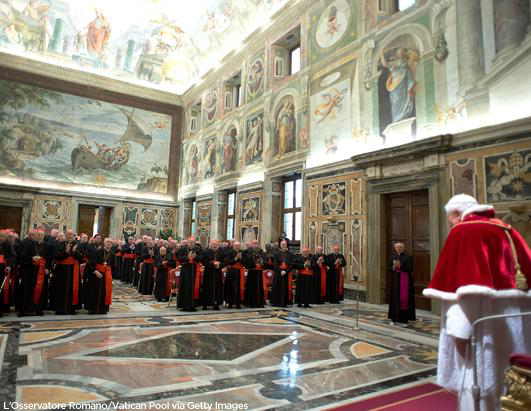 Earlier Thursday, in Rome, the pope pledged obedience to his future successor. Meeting with cardinals for the last time inside the Apostolic Palace, Pope Benedict said he would remain with them "in prayer" after he steps down this evening.
"Among you, the College of Cardinals, is the future pope to whom I pledge today unconditional obedience and reverence," the pope told the cardinals.
In his last hours as pontiff, Pope Benedict XVI addressed a crowd of faithful from the balcony of his summer palace, saying that he would soon no longer be leader of the Catholic Church, rather "a pilgrim who begins the last stop of his pilgrimage."
Greeted by a crowd of people chanting "Benedetto, Benedetto" and waving flags, the pope thanked his supporters and said that he would continue to "work for the good of the Church."
He will return to Vatican City once renovations are complete on his future residence: a former convent inside the Vatican's medieval walls.
"We serve the Church and all of humanity. This is our joy. No one can take that away from us," the pope told cardinals. The so-called princes of the church then lined up to individually bid him farewell.
After his official resignation, the ring that bears the seal of his authority will be broken. Earlier Thursday the Vatican post office, which serves the world's smallest state, began stamping letters with a new mark: Benedictus PP. XVI Renuntiat Ministerio Petrino, indicating the pope had renounced the ministry.
WSJ