Following the official photo leak of the Samsung Galaxy Tab 4 7.0, evleaks has revealed an image of the Galaxy Tab 4 10.1. Just like its smaller brother, the Galaxy Tab 4 10.1 is rumored to have its announcement on April 24.
According to a recently outed specs sheet, the Galaxy Tab 4 10.1 won't be a substantial upgrade over the last generation Tab 3.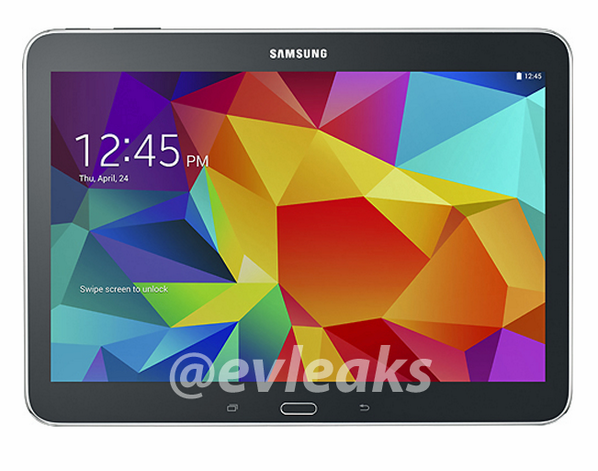 The 10.1″ display keeps the WXGA resolution, as does the battery, which is also unchanged at 6,800mAh. Under the hood, however, there's a new 1.2 quad-core CPU with 1.5GB of RAM and it runs Android 4.4 KitKat out of the box. At the back, the camera is updated from a 3MP to an 8MP one with auto-focus.
Where the Tab 4 10.1 gets a substantial update is weight. With a rumored weight of 320 grams, the Tab 4.0 10.1 is substantially lighter than its predecessor, which clocked in at 510 grams.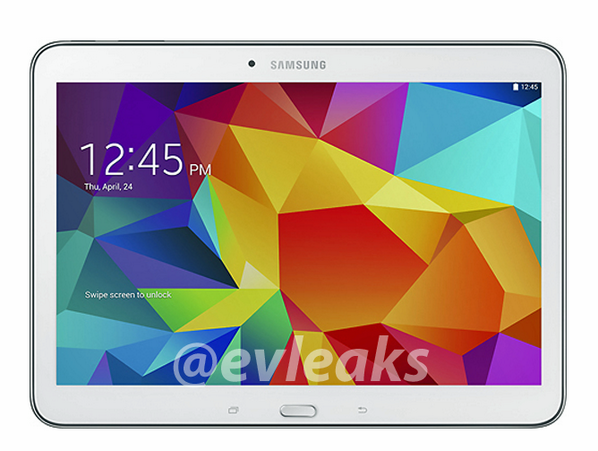 It sounds unrealistic though as the Xperia Z2 Tablet (which is lighter than the iPad Air) weighs 426g. If the weight is true, it would be quite impressive considering the new generation keeps almost the same dimensions at 243 x 176 x 7.95mm.
Now, with the Galaxy Tab 4 7.0 and 10.1 out of the bag, only the Galaxy Tab 4 8.0 remains to have its time in the spotlights.